our Services
Edmonton Orthopedic Products & Dietitician Services
At MD Touch, we offer a wide range of innovative supports and braces that have you covered head-to-toe, no matter what your need is. We carry comfortable and lightweight premium quality products including braces, supports, tens machines and more. Our products and services are ideal for those looking to be proactive against common injuries, on the road to recovery and looking for some pain relief, or just in the market looking for enhanced posture support. Our team consists of professional consultants that offer fittings at our office for supports and braces best suited for your knees, backs, wrists, shoulders, elbows and more, based on your requirements and needs. We also carry Tens Machines, Compression Stocking as well as offer Dietitian Services for senior patients and those suffering from diabetes and obesity, and are looking for lifestyle change.
Products and services
Knee Braces
MD Touch offers custom fitted knee braces that allow patients to maintain as well as improve their functioning with less pain and less chance of worsening the injury or progression of their condition. When you are looking for a custom knee brace in Edmonton, our team members are available to assist you. We offer a variety of knee braces and supports in Edmonton, assisting customers with a wide array of services. Furthermore, you can come to our location in Edmonton to receive selections like these braces to help you get back out there. Whether you require knee braces due to injury or arthritis pain, we have you covered.
Ankle Braces
One of the most common sports injuries includes ankle sprains, but it is possible to sprain the ankle during everyday activities as well. This causes injuries to the ligaments that surround the ankle joint. Due to this, associated bone injuries are also known to occur at times. If the ankle sprain is not treated fast and properly, it can lead to lasting damage and ankle pain, such as instability of the joint, which makes wear of the affected joint most probably in the long term causing osteoarthritis. Arthritis is also another instance where ankle brace can help. MD Touch carries a variety of quality ankle braces that can be fitted to suit customers needs.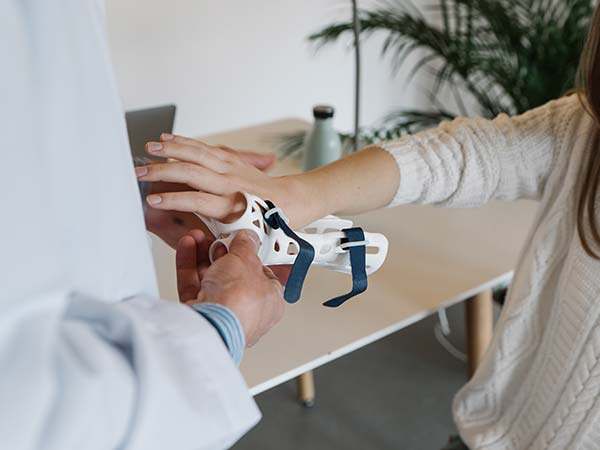 Wrist/Hand Braces
MD Touch carries a wide selection of wrist and hand braces offering mild to moderate support for weak, unstable or injured wrists and hands. You can prevent sprains and strains during exercise and activity, and relieve pain. Need help selecting a wrist brace? We have a team of specialists that can help you pick the right product for your requirements. Whether you are suffering from wrist sprains or strains, Carpal Tunnel Syndrome, Arthritis or even some serious sport injury, we have you covered as we carry a wide variety of wrist braces and supports. We can help you pick out a brace or support that suits you.
Shoulder Braces
Support your shoulder during sports and protect yourself when you have a fall or from overuse by using shoulder supports. MD Touch offers Supportive, comfortable braces with many design options including those for compression to immobilization. Whether you are seeking braces and supports for sprains, strains, torn rotator cuff, dislocated shoulder, stability after shoulder surgery or instability issues, we have you covered. With a variety of brands, styles and strength to choose from, you can choose the type of brace or support that works best for you.
Elbow Braces
Are you suffering from golfer's elbow or tennis elbow and looking for support? Worry no more. MD Touch has you covered. We have a variety of premium quality elbow braces, supports and slings that are suitable for various conditions. Our specialists can help you pick the perfect and most suitable elbow brace for your condition and requirements. Our braces and supports can help you heal and curb the pain that could also be related to arthritis.
Back Braces
At MD Touch, we provide a large variety of hard as well as soft braces & support options for your back. We can assist you with fitting the right type of back brace based on your needs and requirements. Good back Support strengthens the centre of the body by providing beneficial compression during sports activities, therefore protecting the back against overload. The back supports comfortably wrap around the torso and straighten the back. If you choose knitted fabric, it gently massages the tissue over a wide area during movement.
TENS Machines
TENS Machine is an electronic device that is designed to provide pain relief and therapy for people to use in the convenience of their own homes. TENS unit is a portable electronic machine that helps provides pain relief by applying mild electrical pulses to the body through electrodes that are attached to the skin. These pulses help to "confuse" the pain signals that are sent to the brain and as a result reduce discomfort and pain. At MD Touch, we ensure we provide our customers with the right equipment that helps them tackle pain and improve it over period of time. Our goal is to offer customers ease of pain and thus offer personalized treatments for each customer based on their needs and requirements. We have a team of professionals that work with the customer to offer them the most suitable product for pain relief.
Compression Stockings
One of the most essential part of the overall musculoskeletal system is our legs. It is our legs that help us move around and perform physical activities, be it minor or extreme activities. Due to overuse, underlying conditions, surgery, or other factors, the legs' circulatory system can get affected which can lead to swelling (edema), achy fatigued legs, varicose veins, and in some extreme cases, deep vein thrombosis (DVT). At MD Touch, we completely understand the needs of our clients and patients and have thus sourced an extensive selection of the best brands and styles to make wearing compression stockings and socks an expression of function, wellness, style and fashion at the same time. We have a team of professionals that can take care of medical prescription that is recommended for compression socks and stockings that have a compression level of 20 mmHg and higher.
Dietitian Services
A lot of people seek services of our dietitians and nutritionists in order to help them create personalized healthy meal plans. The meal plans are customized based on customers' requirements and specifically designed to provide guidance, provide structure to daily eating habits while eliminating guesswork and impulsive eating behaviour. The meal plans laid out are based on your specific goals, food preferences, sensitivities, lifestyle, cultural and religious restrictions,as well as your budget. At MD Touch, we have certified dietitians that offer customized meal plans for seniors, customers suffering from diabetes, obesity and other special needs. For years, our registered dietitians have been helping customers from all walk of life change their lifestyle to healthier options, lose weight and keep it off. Our practitioners specialize in realistic, healthy and sustainable weight loss. Our team uses a highly personalized diet change counselling approach to maximize the chances of success.